Our team at Theale Dental Surgery decided to sponsor a puppy for the Guide Dog Association, back in October 2016. This sponsorship was made possible due to the continual success of the practice and we would like to take this opportunity to thank all our patients for their loyalty.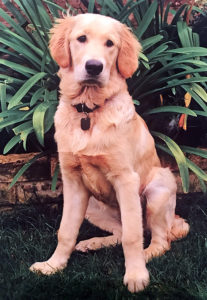 As I am sure you will agree the Guide Dog Association charity is one that is close to all our hearts and we feel it is an extremely worthwhile cause.
We were given the choice of three adorable puppies and after a team vote we chose Una, a beautiful golden retriever born on 29th May'16.
OCTOBER'18 PUPDATE
Una is such a cute and adorable dog, who has won the heart of Kathryn, her new owner.
Kathryn says " Una has fully accomplished navigating me through the busy pathways, street furniture and shared pavements, that I have to contend with on a daily basis. All dogs have different personalities and Una is very different to my last guide dog, Cassie. She is very inquisitive and anyone watching her go down the street whilst she is working, will see her head going left to right looking everywhere other than where she is going! I consciously try to plan my week to practice different routes with her, and I am delighted to say that she has now settled in, and once she knows a route, she is brilliant".
Living life to the full
Kathryn has retinitis pigmentosa and started losing her sight in her late teens. She says "It first hit me that my independence was at severe risk whilst taking my daughter to school, as she had begun to be the one who would guide me to cross the road. As a person, I like to be in control of my life, and it was important for me to keep my independence. With Una by my side I can do things spontaneously and lead an active life. She is my lifesaver.
My real passion is rowing and thanks to Una, I can row twice a week. Una knows everyone at the rowing club and loves getting a fuss when she arrives, she even has her own bed in the club room for her to snooze in! I was thrilled the other day to be able to take a rowing boat out on my own. The liberating feeling and thrill it gave me reminded me of the motorbike I used to ride in my twenties! Without Una getting me out and about I would never have had the confidence to do this."
Family time
"My family and friends think Una is gorgeous and when we go out she is so well behaved. She sits on my feet or under the table when we are relaxing together and she's a great conversation starter at my local pub! Una has a very loving nature and loves a cuddle. Una plays nicely with my retired guide dog, Cassie, and I'm so glad they get on so well. They will run along shoulder to shoulder holding the same toy in their mouths. Una has lots of toys but nothing survives that has ears a she likes to chew them off! However, the teddy, that her Puppy Walker Stacey gave her survived and is still going strong.
At the weekend Una loves to play fetch and go on a free run in the park. I recently discovered that not only does she like paddling, but she can swim quite well! She enjoys sunbathing and I will often find her laid out in the garden when it's good weather outside.
Without the support of sponsors and the help Guide Dogs has given me, I would be leading a completely different life and certainly wouldn't have the confidence to do some of the things I do or meet the people I have. I am really looking forward to my future with Una!
"Thank you so much for supporting Una's journey!"
For more photos of Una visit:
http://sponsorapuppy.org.uk/puppy-una